Osteogenesis imperfecta, also known as brittle bone disease, porcelain doll, glass bone, is a rare hereditary skeletal developmental disorder. About one in every 10,000 to 15,000 people is sick, and there are about 100,000 to 200,000 people in China.
The 6-year-old Guizhou boy Xiaofeng suffers from congenital osteogenesis imperfecta. He is born with "glass bone". Like a porcelain doll, a slight collision can lead to a fracture. The fracture of the leg has been twenty or thirty times. Due to too many fractures, his legs slowly turned into a cross-shaped ring, which seemed to sit on the cross-legged legs and could no longer stand up. This deformity also made medical orthopedic surgery impossible.
On the 26th, the reporter learned from the Shenzhen University Hospital of Hong Kong that the orthopaedic team of the hospital introduced the latest 3D printing technology , printed a 1:1 simulated lower limb model for Xiaofeng, and then accurately designed the surgical plan on the model, which was successfully carried out in June this year. Osteotomy orthopedic surgery, and the use of four retractable "intrinsic nails" to straighten the truncated bones, making Xiaofeng an "Iron Man" who can walk independently. It is reported that this is the first case of osteogenesis insufficiency surgery assisted by 3D printing in China, which brings hope to patients with severe deformity of "glass bone".
Two or three fractures of the legs
Xiaofeng learned to have a fracture in the first week of walking. Up to now, his legs have been broken twenty or thirty times. "Sometimes I ran on the ground, and I broke my bones when I turned around." Xiaofeng's father said that it is often fractured to the hospital, and then fractured to the hospital. "To be honest, he hasn't had a lot of time to stand up." For the most part, Xiaofeng can only sit on the sofa and watch cartoons, or climb up and climb with his hands. Despite this, he is still prone to fractures, more and more cracks on the bones, and the lower limbs are slowly turning. At the age of 5, the legs become crossed rings, just like sitting cross-legged, can no longer stand. stand up. From the X-rays of his bones, there are traces of fractures everywhere, mainly thighs and calves.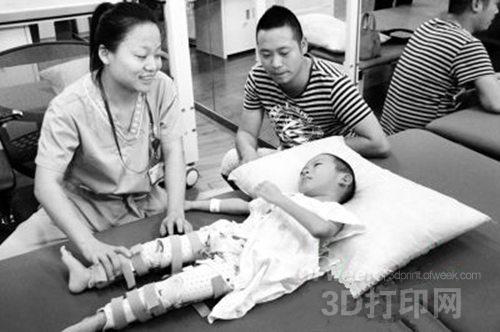 Parents took Xiaofeng to Chongqing and Zhejiang to seek medical treatment, and they all failed. In June of this year, the charity organization concerned about "osteogenesis imperfecta" - Porcelain Dolls Rare Care Center helped Xiaofeng to contact the Department of Pediatric Orthopaedics of the Shenzhen University Hospital of Hong Kong, hoping to help him correct the deformed legs.
3D printing simulation leg model
Osteogenesis imperfecta is still incurable. The current medical goal is to minimize the possibility of fractures, correct deformities through surgery, reduce bone vulnerability by increasing bone density, and minimize pain, maximizing patient psychology. Activity and independent activity capabilities.
Du Qijun, an orthopaedic consultant at the Shenzhen Hospital of the University of Hong Kong, said that for ordinary lower extremity deformities, it can be corrected by osteotomy of "broken bone re-continuation". However, Xiaofeng's legs have been twisted into a ring shape, and it is impossible to put the bones in the right position to take standard X-ray films, so that doctors cannot design precise surgical plans.
However, 3D printing has caused many medical problems to dawn. The orthopaedic team of the Shenzhen University Hospital of Hong Kong contacted the local local laser 3D printing company Guangyunda Company, and produced a 3D simulation model of the lower limb for Xiaofeng for free. The whole process took a total of two or three days.
On June 24, the surgical team of the Shenzhen University Hospital of Hong Kong conducted a double lower extremity osteotomy and intramedullary fixation for Xiaofeng. According to the pre-planning plan, the team used a minimally invasive method to accurately locate the femur and tibia of the child's legs by means of X-ray fluoroscopy, accurately cut off, and then place one on each side of the big and lower legs. An "intramedullary nail" shaped like a sweater needle is inserted into the bone marrow cavity, stringing the truncated bones and re-splicing into a straight line. These four "intramedullary nails" remain in the child's body, supporting and fixing the lower limbs, making Xiaofeng an "Iron Man" who can walk independently.
Unlike ordinary "intramedullary nails" that are fixed in length and length, this small peak surgery is inserted into a retractable "intrinsic nail". "If you use the old nails, the child's legs are long, and you have to do multiple operations and replace them with longer nails. But now the telescopic nails will automatically extend with the growth of the legs, as long as they do not fracture later. For nail replacement, this telescopic nail can be used all the time." Zhang Xiangyu, deputy consultant of the Department of Orthopaedics, Shenzhen Hospital of Hong Kong University.
Will be able to stand after rehabilitation
One month after the operation, the doctor helped Xiaofeng remove the hip-shaped gypsum for fixation and transferred him to the physical therapy department for rehabilitation. The reporter saw in the hospital on the 26th that after a month of exercise, Xiaofeng had been able to stand slowly under the support of the standing bed, and it was 600-900 with the ground. "Every time he exercises, his tendons and muscles are sore, but he is very strong, and he insists on biting his teeth. Even if he cries, he will not cry." Xiaofeng said. It is reported that Xiaofeng still needs rehabilitation exercise for one month before he can stand up independently, and he will practice walking and living in the future.
The correction of the legs of Xiaofeng's deformity is successful, but it does not mean that he will no longer have a fracture in the future. Zhang Xiangyu said that osteogenesis imperfecta is not prone to fractures until adulthood. Therefore, in order to minimize the possibility of small peak fracture, the team will also regularly inject a bisphosphonate drug into his body several years ago. His bone density. It is reported that two injections per year are required, and the cost of medicine for one year is about 6,000 yuan.
The Xiaofeng's surgery and hospitalization expenses at the Shenzhen University Hospital in Hong Kong are only tens of thousands of yuan, but it is still a big burden for the family in the mountains of Guizhou. Dr. Zhang Xiangyu introduced that many children with severe deformity "glass bones" are from remote and poor rural areas. At present, the Shenzhen University Hospital of the University of Hong Kong is cooperating with a number of charitable NGOs, large enterprises and chambers of commerce to jointly establish a rare and rare disease charity fund including osteogenesis imperfecta.
Perm Lotion,Permanent Wave Hair,Permanent Curly Hair,Hair Wave Perm
 Guangzhou Biqian Daily-Used Cosmetics Co., Ltd.   , https://www.bqcosmetic.com